Horimiya in my opinion is the best Rom-com anime of 2021 and I believe many of you will agree with me.
Horimiya has been a long-awaited manga series, I was amazed at how many people were hyped for this anime's arrival and were patiently waiting for the season premiere. Check out my Horimiya Anime Review.
As it is common that most romance shows are filled with so many emotions which are carefully expressed in few meaningful words which sometimes.. you don't want to forget.
So here's a list of some of the most adorable Horimiya Quotes that would want to remember.
Here's The List Of 30+ Horimiya Quotes That Are Just So Sweet
Miyamura Izumi Quotes
I think you're way cuter like this

Miyamura Izumi
It's the first episode and love is already in the air.
---
The only person who's seen me without a shirt on is Hori

Miyamura Izumi
That's one way of saying that you are a couple.
---
You don't have to apologize, you don't have to tell them anything.

Miyamura Izumi
Hero Miyamura to the rescue! Never make our make Hori feel bad.
---
Oh, I was just kinda pissed at him

Miyamura Izumi
He is really scary sometimes, just never try to hurt Hori-San.
---
I love your hands too… I love yours too

Miyamura Izumi
Just a really sweet sweet anime couple, this is just how every love story begins.
---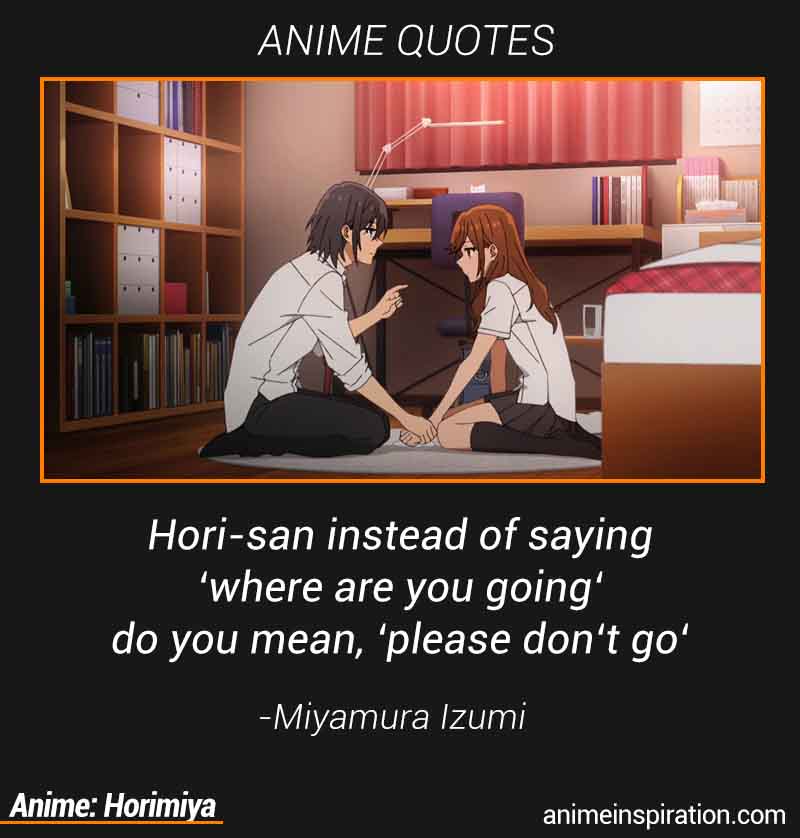 Hori-san instead of saying 'where are you going' do you mean 'please don't go'

Miyamura Izumi
Both of them are perfect for each-other i can never imagine Miyamura leaving Hori-San for another girl
---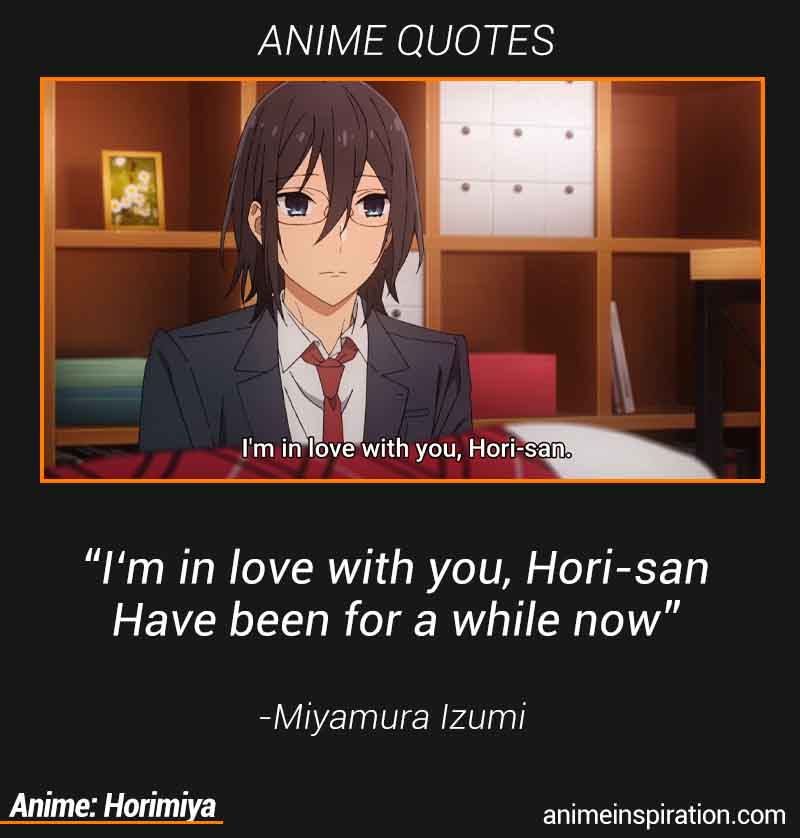 I'm in love with you Hori-san, have been for a while now

Miyamura Izumi
Miyamura definitely knows how to handle his feelings, keeping those inside will only effect you more.
---
Hori-san, I don't know very much about you, But I'd like to learn more about you, little by little

Miyamura Izumi
What more is left more to learn?? you know where she lives, you know her family. You even met her dad and slept in their home.
---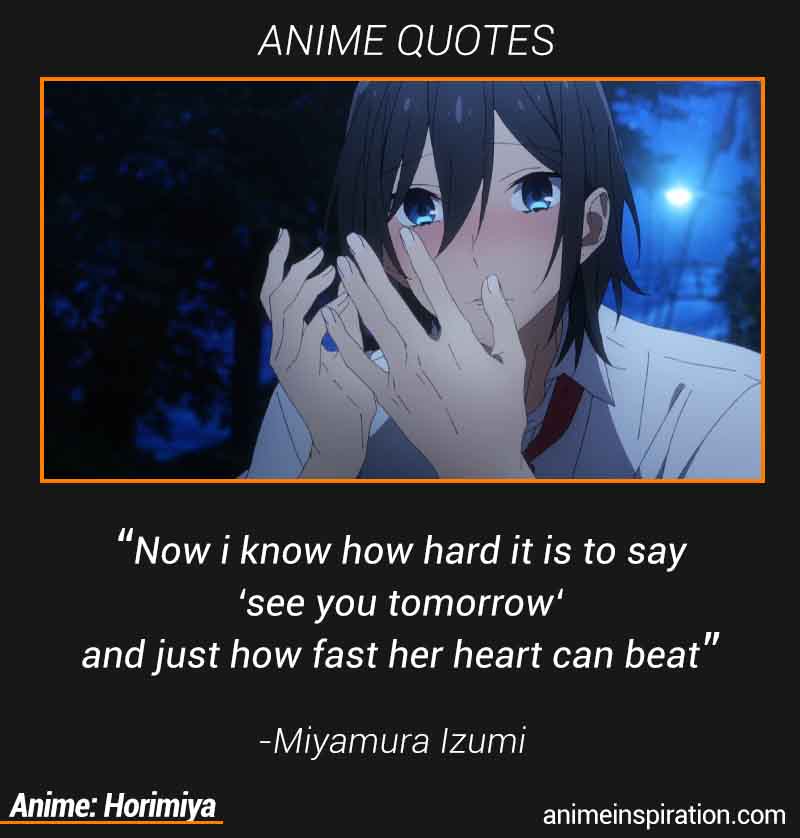 Now i know how hard it is to say 'see you tomorrow' and just how fast her heart can beat.

Miyamura Izumi
He is just so precious, nobody should dare to hurt him.
---
What i like about Hori-san is that she doesn't people by appearances.

Miyamura Izumi
Given that her father looks like a punk rock musician, I'd say she been like that for a long time.
---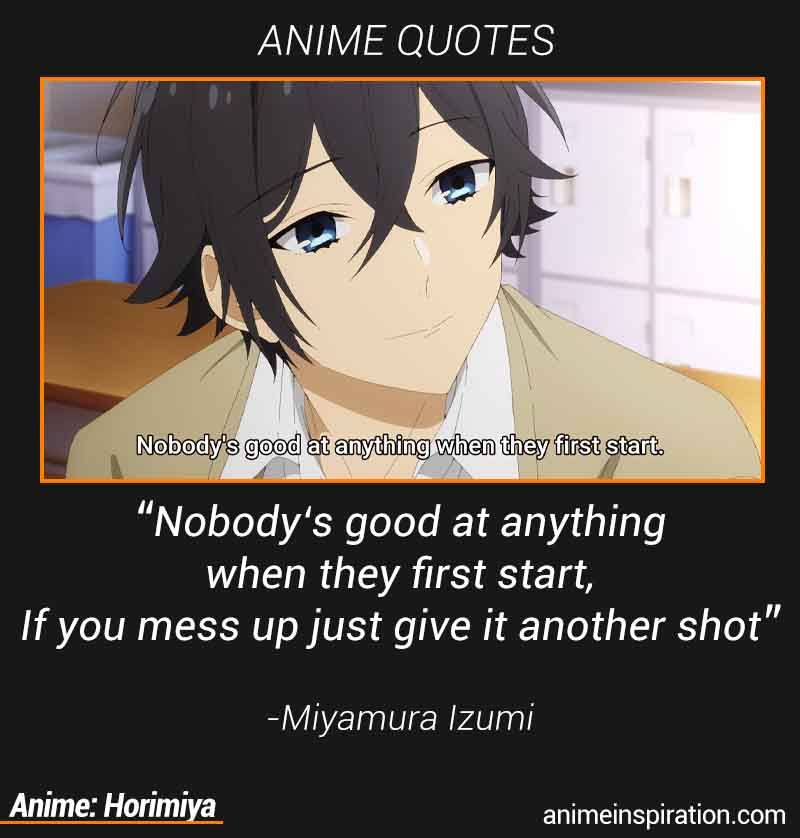 Nobody's good at anything when they first start, If you mess up just give it another shot.

Miyamura Izumi
Applies to everything in life, Never give up on your dreams, always try to do what u want.
---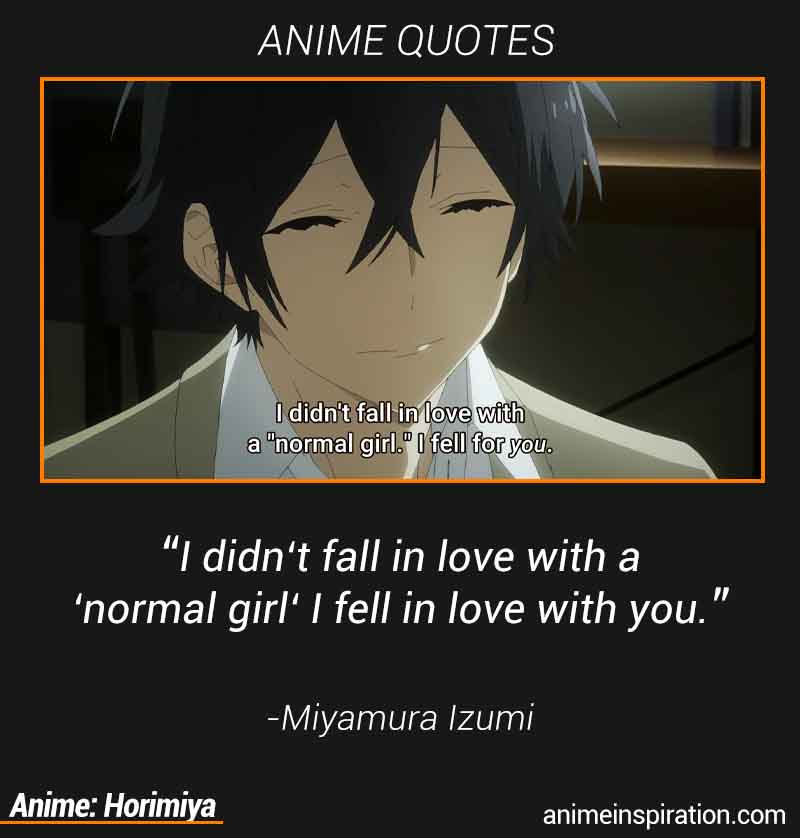 I didn't fell in love with a 'normal girl' I fell in love with you.

Miyamura Izumi
You don't fall in love with a normal girl, you fell in love with a sadist and masochist girl and that is not normal
---
It might be really hard but, I don't think there's a person in this world you can't eventually be friends with

Miyamura Izumi
I'm glad he can move and look forward to what life holds for him and not look back.
---
I wanted to throw my yearbooks away, But they're so huge and heavy, I don't know what to do with them, So i just ended up keeeping them.

Miyamura Izumi
His life changed drastically and only for the better because of that one special person, I'm happy can look at his past and be glad that it's over.
Kyouko Hori Quotes
For some reason, I kinda don't want anyone else to see this side of you.

Kyouko Hori
She wanna keep the best boy all to herself, not that there's anything wrong with that.
---
Sometimes I'm not sure if you're seriously amazing or seriously stupid.

Kyouko Hori
I'd say he's about average, a little dense around the edges.
---
He reminds me of a dark villain in a detective movie.

Kyouko Hori
Say whatever you want, his personality is really amazing.
---
Who knew trying to find out his name would be this exhausting.

Kyouko Hori
This episode was just so funny, Hori going in the boys changing room was the best.
---
You're such a weirdo.

Kyouko Hori
---
Miyamura is mine! You can't have him!

Kyouko Hori
She finally accepted her feelings, it took some time but she sure did.
---
Only morons catch a cold in the summer, I can't be sick.

Kyouko Hori
Only morons catch colds in the summer, hahaha this is just gold.
---
I'm asking you guys are done talking. If you are, then piss off [email protected]#holes

Kiyouko Hori
You don't want to mess Hori-san when she's mad, never ever.
Tooru Ishikawa Quotes
You're kind of weird, But that's okay. You're just kind of awkward.

Tooru Ishikawa
Everyone is weird in one way or another, all you need is to find people who accept you for who you are.
---
The snow melts because it decides to melt on its own, no matter how badly anyone wants it to stick around, the snow makes its own decision to melt.

Tooru Ishikawa
I'm still not sure that if he knows that Yuki likes him or he's just being a nice friend, I was really hoping for him to end up with Sakura.
Kyousuke Hori Quotes
No! Miyamura-Kun's gonna sleep with daddy!

Kyousuke Hori
Haha Yeah! Miyamura is going to sleep with daddy.
Remi Ayasaki Quotes
You look really cute, Sakura.

Remi Ayasaki
It's amazing how some words can mean so much coming from someone you admire.
Honoka Sawada Quotes
I had a crush on you first, Hori Senpai!

Honoka Sawada
I never imagine I'd see this happening anything soon.
Kakeru Sengoku Quotes
She makes me want to protect her, I'm not even that strong in the first place, but Remi makes me want to be stronger, even if it's just for her sake.

Kakeru Sengoku
A really sweet and somewhat complicated relationship, loving can someone be a weakness and it can also make you strong.
---
If the world was going to end tomorrow, I'd tell you I like you. Then I'd turn to space dust.

Kakeru Sengoku
I didn't peg him to be this bold but good for him, he had the courage to tell the girl he likes her. Not many guys can do that.
---
It only hurts more because, nobody is in the wrong.

Kakeru Sengoku
Sometime life is really complicated bad things happen, nobody is to blame.
Sakura Kouno Quotes
I got rejected before i even had a chance to ask him out.

Sakura Kouno
oh dear god my heart can't take it anymore, seeing her cry in the episode just broke something inside.